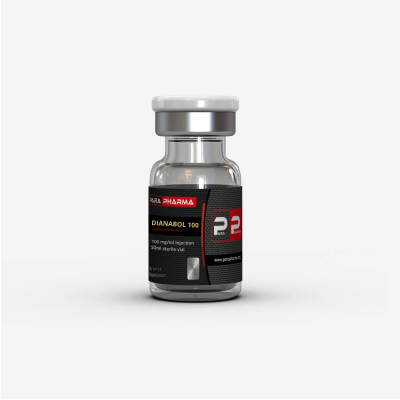 PARA PHARMA DIANABOL 100 INJECT 100mg/ml
---
Product Code:

dianabol-100

Availability:

In Stock
---
Product description
Manufactured by Para Pharma Dianabol is an anabolic steroid with a half-life of 5-6 hr. Dbol, often known as Dianabol, is a 17-alkylated testosterone derivative. Make no mistake, this steroid is not the same as testosterone, and it can help you gain a lot of muscle growth quickly. Though this equipment has a little more water retention, it can benefit the user by allowing the lifter to manage heavier loads and gain muscle mass in the process.
Because it has a short half-life, it should be taken daily or twice daily for best results. In a 4-6 week cycle of Dbol inject 100, gains of 20 pounds or more are not uncommon. DBOL Inject is a popular mass-building and strength-building substance. It provides the impression of being quicker and more powerful. This injectable version provides significant benefits. It assists bodybuilders in achieving high-end performance as well as muscular strength. Muscle strength is enhanced, resulting in a ripped body and greater muscle volume.
Benefits
Users can expect the following benefits by using Para Pharma Dianabol:
It increases protein synthesis in the tissues of the muscle.

It helps in power gain by improving the shape and size of the body.

It reduces the elimination of fat deposits.

It helps in improving levels of testosterone in the body.

It helps bodybuilders by increasing stamina to work out.

It also increases the strength of body muscles.
Dosage
Users of DBOL steroids should take extra care. Despite its complexity, many individuals like to use it. They should take 30 to 50 mg per day if possible. It is not advisable or recommended to raise this dosage level. The steroid's half-life is quite short. As a result, the injection is given once or twice a day. It yields better outcomes. For greater outcomes, bodybuilders utilize this steroid on a daily basis. Beginners are not permitted to use steroids on their own. Their bodies can only adjust to the complicated alterations that occur after steroid consumption after suitable training or timing.
Info
Package
1 vial (10 ml/vial)
Manufacturer
Para Pharma
Substance
Metandienone
Common name
Dianabol
Customers who bought this product also bought: